Not much to say after you get two-hit by the Nationals, it happens... I guess... so instead, let's concentrate on the worst baserunning play I've ever seen. Ever.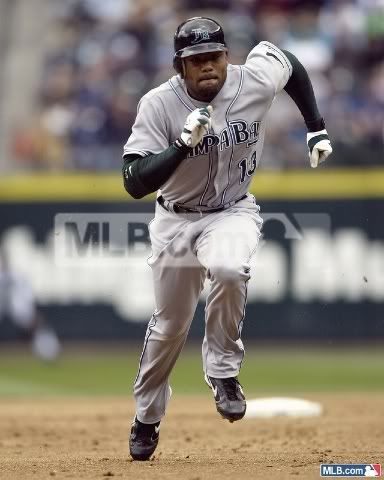 Now I've seen a lot of screwed up baserunning in my day. I saw Lonnie Smith have a brainfart courtesy of Chuck Knoblauch in the '91 World Series. I saw Cardinals third base coach Jose Oquendo throw his hands up in disgust as
Jeff Suppan
got stuck between third base and home plate without a clue. But I have never... EVER... seen anything as bad as what I saw in the ninth inning of tonight's Twins-Devil Rays game.
Here's the situation (until this gem gets on the YouTubes)...
2-2 game in the top of the ninth... Carl Crawford at the plate with no outs and Ben Zobrist (Devil Rays SS) on first. Crawford rips a ball to the right field fence. Crawford, a speedy fellow with a penchant for triples, runs directly to third base, not realizing that D-Rays third base coach Tom Foley (who lives in a van down by the river) has held Zobrist at third. Zobrist decides to nonchalantly stride to home plate, while Twins second baseman Luis Castillo duns the ball to Joe Mauer to get Zobrist in a rundown.
Not terrible... it's unfortunate, it happens. The Devil Rays will still have a runner on third with one out. Any fly ball will score the speedy Crawford from third.
EXCEPT, Crawford (who is literally standing on third base at this point) decides to run back to second base. Zobrist, who officially mailed in the rundown, gets tagged out by catcher Joe Mauer, who then has plenty of time to toss the ball to second base to tag out Crawford. 9-4-2-6 double play. Justin Morneau leads off the bottom of the inning with a walk-off home run,
Twins win 3-2
.
Sure, it wasn't a World Series game. Hell, we're still only in the second week of the season. But after all these years filled with Devil Ray losses, their fans don't deserve to have their team lose a game in this fashion. Shouldn't they be able to two-hit a good team every once in a while too?
(By the way, the Florida Lottery Play 4 tonight was 9-4-2-6. And that's not even true!)