Alright, kids... I'm going to be liveblogging today's Braves-Mets matchup (starting at 3:30 PM EDT/2:30 PM CDT). I'll be sticking with it until I get a phone call for socializing plans, or the Mets decide to repeat their little offense-gasm from last night. Whichever comes first.
Until then, I'm rewatching Florida's win over Ohio State in Monday's national championship game. This whole
Billy Packer/"fag out" controversy
is pretty humorous... Packer said he frequently uses "fag" as a verb to mean "to exhaust or tire," but not once during this whole national championship game did Packer say that Greg Oden looked faggy.
Anyway, the game starts in twenty minutes... feel free to join me in the comments.
By the way, before the game starts, I'll throw in my two cents on
Colin "Schrutebag" Cowherd
dropping a nuke on
The Big Lead
. I went back and listened to the archived broadcast, and it was totally a dick move by Schrutebag. I totally hope he gets prosecuted and fired... not only for this little stunt, but also for doing blow during his broadcasts.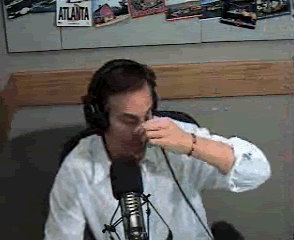 And we're off. Joe Buck and Tim McCarver with the call. Joe Buck is wearing a pink shirt and complaining about the weather. Add in the fact that Buck was the pitchman for DirectTV's then-exclusive Extra Innings package... he's getting close to reaching Schrutebag levels of doucheness. Let's see if he tries to blow up
Awful Announcing
before the seventh-inning stretch.
MLB is keeping Johnny Pesky off the Red Sox bench? Horseshit! It's not like he's Dusty Baker's kid... Jason Varitek isn't grabbing him to keep him from getting barreled over by Big Papi at home plate. LET HIM SIT!
Ken Rosenthal talking about the Braves possibly picking up Mike Cameron as a free agent next year if the Padres don't sign him to a three-year extension. Possible replacement for Andruw Jones in center if the Braves can't afford him. Probably a better lead-off hitter than Kelly Johnson, too.
Here's your line-ups... For the Mets: Reyes, Lo Duca, Beltran, Delgado, Wright, Alou, Green, Valentin, and Tommy Glavine. Lo Duca gives us the line-up, apparently the Mets hand out nicknames like Sawyer from "Lost."
It's cold in Atlanta, and Buck mentions that he and McCarver have snuggled up against each other often (in October). Remember, he said this while wearing a pink shirt.
Lo Duca is better at baseball than Sawyer. Solo home run,
1-0 Mets
. Next batter, E-5 Chipper. This game will likely be similar to the game last night. Fortunately Smoltz throws a little harder than 85 mph.
44 degrees in the ATL. I'm glad I decided against seeing this game live.
Smoltz gets Delgado on a lazy 3-2 pop-up to the catcher, who gets Beltran (running on the pitch) at first. The Braves can do double plays too, Mets.
Braves line-up: Johnson, Renteria, Chipper Jones, Andruw Jones, Francoeur, McCann, Craiggers, Matt Diaz, and Smoltz. Tim Hudson delivers the line-up, and refers to Chipper as "Larry Jones." Man, it's weird to hear it like that. Chipper isn't such a bad nickname after all.
Andruw Jones is fucking cold. And he walks to load the bases with one out for Francoeur. The Braves better get Glavine early... that's his m.o. And Frenchie grounds out, but KJ scores.
1-1
with McCann coming up to bat. McCann grounds out to end the first.
A-Rod actually does something curtain call-worthy, with a game-winning grand slam to beat the Orioles, 10-7. I'm just using this as an excuse to post my favorite Alex Rodriguez picture. 1-2-3 inning for Smoltz.
And Matt Diaz goes yard in the bottom of the second.
2-1 Braves.
McCarver mentions this is the first deficit the Mets have faced this year. KJ gets a two-out single, then gets hit by Lo Duca's throw while stealing second while scraping his face on Jose Valentin's glove. Then Renteria pops out on the next pitch. But you know what, Kelly? It was worth it. (By the way, this is my favorite quote from
Pearl Harbor
.)
Is Jose Reyes the next Rickey Henderson? All I know is he won't be able to sneak off to the locker room during the late innings of a playoff loss to play cards with Bobby Bonilla. Scoreless third inning for both teams.
Rosenthal is back saying that Andruw Jones may command $150 million dollars on his next contract. I'm just going to go find a cash machine.
The Mets load the bases with two outs in the top of the fourth, with Glavine at the plate... and Tommy pops up on the first pitch to end the threat.
Still 2-1, Braves.
Tom Glavine has some bad luck with batters getting hit by pitches. He just hit Craig Wilson on the knee, and Craiggers didn't even try to move to avoid it. Of course, that wasn't as bad as when Tom hit a batter on a called-strike. I still don't know how that happened.
Joe Buck talks about Jose Reyes: "I like guys who are bouncing around looking like they are having fun. Just as long as they don't fake showing their ass to the crowd."
The Mets start to the fifth: Reyes
base hit
walks, steals second. Lo Duca gets him to third, Beltran gets an RBI-base hit. It's almost like they plan it that way. And
we're tied at 2.
Smoltz ends the inning on his 100th pitch... really? Man, I did not realize he's thrown that many pitches.
The Braves start to the fifth: Kelly Johnson grounds out. I think my blood-alcohol content last night was higher than KJ's on-base percentage.
Smoltzie gets a rare strikeout on Lo Duca with runners on first and second for out number three in the sixth. Mets have left nine runners on base in six innings. By the way, so far FOX has misspelled both Jeff Francoeur (Francouer) and Andruw Jones' (Andrew) names in graphics.
Andruw starts the bottom of the sixth with a double. Francoeur follows with a bloop single. And Valentin saves a run with a line drive catch to rob McCann of an RBI. If the Mets get a double play here, I will probably throw up. Come on, Craiggers (he walks to load the bases for Diaz).
"Oh WOW!" Shawn Green drops a Diaz looper to right field, and Andruw Jones scores.
3-2 Braves
, Glavine gets chased, bases still loaded. Nice little piece of hitting by Diaz, the ball he hit was out of the strike zone. I think Shawn Green was as surprised as I was that Diaz hit it so well. Pedro Feliciano to face Chris Woodward, pinching for Smoltz (in line for the win). Woody gets a sac fly, Francoeur scores from third.
4-2 Braves.
KJ walks to load the bases (sorry about the OBP joke, Kelly) for Renteria. Feliciano is done for the day.
Joe Smith (whose number is easy to find in any New York City phonebook) gives up an infield RBI hit to Edgar, and Chipper is up with the bases still juiced (
5-2 Braves
), but flies out to end the inning. In comes Gonzo.
Tim McCarver on John Smoltz: "He's the Dennis Eckersley of 25 years ago." Um... reverse that, Timmy.
Shawn Green is 3-for-4, and gets an RBI single to cut the
Braves lead to 5-3.
The crazy wind is making every pop-up an adventure. Seventh inning stretch time.
McCarver spends the bottom of the seventh talking about how their provided Telestrator is old and doesn't work. He actually requests that the cameraman show the Telestrator so we can see how old it is. I was kind of expecting him to hold up an Etch-a-Sketch. Meanwhile, Joe Buck deadpans to the camera with a look that says, "Yup, I have to snuggle up with this guy."
The Tobacco-Chewing Ronin (Rafael Soriano) pitches the eighth for the Braves. He literally has a mouthful of chew while he's pitching. That can't be healthy. He gets the Mets in order, hitting 98 on the gun at one point.
So the Braves go Mike Gonzalez in the seventh, Soriano in the eighth, and Bob Wickman in the ninth... this will pretty much be the recipe for the season, I'm figuring (along with every other baseball writer). Nice of the Braves to showcase it on FOX's first game of the season.
And Wick is struggling... runners on first and third with Pee Hands up to bat.
Two outs, and Shawn (3-for-4) Green is up... The fans are doing the warchant on defense (huh?).
HOLY SHIT. Craiggers catches the potential game-tying hit FTW. Ballgame.
Braves win, 5-3.
Smoltz gets the win, Glavine takes the L, and the Mets lose for the first of many times this year. And Joe Buck and Tim McCarver lived happily ever after.