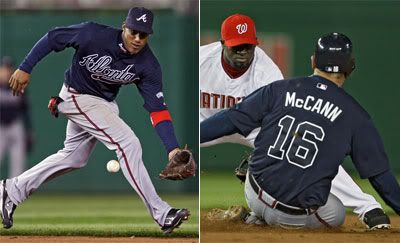 The good:
The Braves'
new alternate road unis.
Me likey. Much better than the Sunday reds, which make me feel the same disgust as when I see
an entire family wearing Crocs.
The bad:
George W. Bush's
alto queso
, or "high cheese" (thank you Dave Campbell from
High Heat 2002
). On the radio, Chip Caray did mention that W was wearing a kevlar vest underneath his jacket. It's sad how things have changed since that
horrible Reggie Jackson incident.
The good:
Tim Hudson's WHIP, sitting at 0.43 right now... which happens when you retire 17 straight batters. And since this is my first season playing fantasy baseball, I actually care about this now.
The bad:
Uh, this happened....
(video purloined from
Mister Irrelevant
)